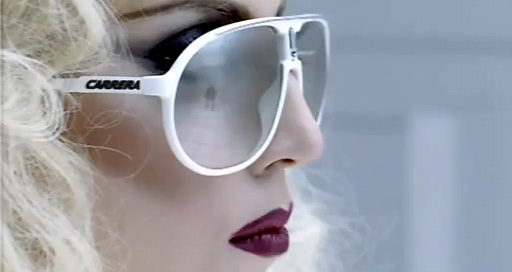 Carrera's "Champion" sunglasses have taken part in the Lady Gaga music video, "Bad Romance", the first single from her album, The Fame Monster.
"Bad Romance" is currently broadcast on all major music channels and online outlets.
In the this video, Lada Gaga wears Carrera's "Champion" sunglasses, one of the brightly-colored models in the Vintage collection. In a translucent, eye-catching setting, Lady Gaga's powerful interpretation enhances the super-fashionable and unmistakable style of the eyewear.
"Champion" sunglasses are inspired by the original designs of the early Eighties and attract attention with their aviator shapes in Optyl (a Safilo registered trademark), an ultra-light and hypoallergenic material.
The front has a shield frame with metal details on the bridge and a semi-tear-drop-shaped lens. The Carrera logo is featured near the hinges, which is a little bit thicker than the arms. It comes in three different shades of colors like black semi shiny (green), blonde Havana-striped shiny (brown gray gradient), red shiny (gray) and more. It has a medium-sized frame that will fit all facial shapes.